Donnerstag, 2. August 2018
Was passiert gerade?
Goonswarn's Imperium greift nach einer Pause von einem Monat wieder gezielt den Norden an. Am frühen Morgen des 31. Julis gab es einen massiven Angriff der Imperium Streitkräfte auf den NC. Keepstar in X47L-Q. Der Keepstar wurde in den frühen Morgenstunden in den Reinforce geschossen. Gestern Nacht gab es zum Armor Timer die zweite Imperium-Angriffswelle. Nach über 11 Stunden harten und bedingungslosen Kampf mit vielen Losses auf beiden Seiten, konnte der Keepstar von uns nicht verteidigt werden und wurde von Imperium in den zweiten Reinforce Timer geschickt.
Warum ist das so wichtig?
Der X47 Keepstar ist strategisch für die nördliche Koalitionskräfte aus Pandemic Leagion [PL], Northen Coalition [NC], Mercenary Coalition [MC], Circle-of-Two [CO2] und Guardians of the Galaxy [GOTG] wichtig. Er ist der Ausgangspunkt für die Verteidigung des Nordens gegen die Goonswarn's Imperium Kräfte. Bis jetzt konnten wir die Timer immer verteidigen. Das könnte sich jetzt ändern. Deswegen war bereits der Armor Timer ungewöhnlich hart umkämpft. Bei dem letzten und entscheidenden Struktur-Timer, der ab heute in 6 Tagen herauskommt, geht es jetzt um alles! Es wäre ein harter Schlag für uns, wenn die Imperium Koalition unseren Keepstar abschießen könnte.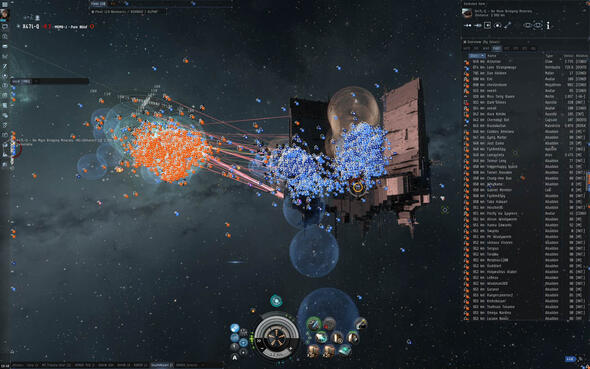 Meinung zum Kampf von unserem Head-FC:
MC - Wow. Just fucking WOW.

What a fucking bloodbath. I've been sat here for 11hrs now but each and everyone of you that showed up, we made them hurt for what they bought.

This is why we play this game for fights like this. I'll put together an AAR for you guys tomorrow or the day after.

6 days and we will have another massacre to attend!
Nach letzten Erkenntnissen sind gestern um die 60 Titans geplatzt. 27 Imperium Titans und 29 Northern Titans, laut Imperium News. Die genaue Kill-Statistik werde ich nachreichen, sobald sie verfügbar ist. Hier einige interessante Kills und Links zu dem gestrigen Mega-Fight:
Kills:
Goons Molok (513 Mrd)
Darkness Vanquisher (318 Mrd)
Gesamte Kill Statistik vom Fight
Artikel:
Breaking News: Keepstar Armor Timer X47L-Q
The biggest battle in EVE Online's entire history
X47 Keepstar Armour Timer Live Thread
Login, Database & Chat Problems – The War Continues!
EVE Online hat endlich seine Größte Schlacht der Geschichte
Größte Schlacht in 15 Jahren mit Schiffen im Wert von rund 700.000 Dollar
(Seite 1 von 1, insgesamt 1 Einträge)